This time around I changed up the yeast selection and decided to give the Imperial Dry Hopped yeast a try. I'm hoping this comes out of the fermentor before our friends annual Quonnie Fest party next weekend (will be bringing Galaxy Rider and Raspberry Dream with us and maybe Spruce Juice). Thinking that if it does come out of the fermenter in time I may even rename this version for the party.
Grain Bill
1lb Rice Hulls
25lbs Pale Malt (2 row)
3lbs Wheat Malt
2lbs Flaked Wheat
1lb 8ozs Flaked Oats
1.5lb Table Sugar
1oz Amarillo @ 30mins
1oz Amarillo @ 15mins
6ozs Citra whirlpool for 15mins
4pkgs (8billion cells) Imperial Dry Hopped yeast
10oz each of Galaxy & Amarillo dry hopped 2 days before FG
Water
Added 3g of gypsum, 8g calcium chloride, and 12g magnesium sulfate to bring the water to.
50ppm calcium, 19ppm magnesium, 38ppm sodium, 100ppm chloride, 106ppm sulfate and a chloride/sulfate ratio of .94
Inspiration
The first version of this was a big hit even though I made a few hop addition mistakes so I decided to go for it again.
Brew Notes
Got the HLT setup and mowed the lawn while it came up to temperature.
The Imperial Yeast really went to work fast and conversion is moving along fast as well.
Label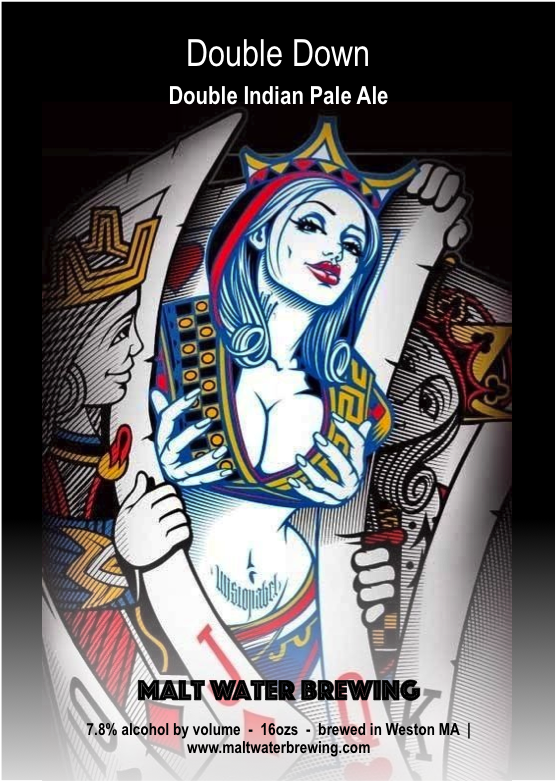 http://maltwaterbrewing.com/wp-content/uploads/2018/07/IMG_2617.jpg
3024
4032
brewmaster
http://maltwaterbrewing.com/wp-content/uploads/2018/05/Malt-Water-300x50.png
brewmaster
2018-07-21 11:01:26
2019-06-03 18:57:26
Double Down | Double IPA 7.8%