Brewing, On Tap

This time around I changed up the yeast selection and decided to give the Imperial Dry Hopped yeast a try.  I'm hoping this comes out of the fermentor before our friends annual Quonnie Fest party next weekend (will be bringing Galaxy Rider and Raspberry Dream with us and maybe Spruce Juice).  Thinking that if it does come out of the fermenter in time I may even rename this version for the party.
Grain Bill
1lb Rice Hulls
25lbs Pale Malt (2 row)
3lbs Wheat Malt
2lbs Flaked Wheat
1lb 8ozs Flaked Oats
1.5lb Table Sugar
1oz Amarillo @ 30mins
1oz Amarillo @ 15mins
6ozs Citra whirlpool for 15mins
4pkgs (8billion cells) Imperial Dry Hopped yeast
10oz each of Galaxy & Amarillo dry hopped 2 days before FG
Water
Added 3g of gypsum, 8g calcium chloride, and 12g magnesium sulfate to bring the water to.
50ppm calcium, 19ppm magnesium, 38ppm sodium, 100ppm chloride, 106ppm sulfate and a chloride/sulfate ratio of .94
Inspiration
The first version of this was a big hit even though I made a few hop addition mistakes so I decided to go for it again.
Brew Notes
Got the HLT setup and mowed the lawn while it came up to temperature.
The Imperial Yeast really went to work fast and conversion is moving along fast as well.
Label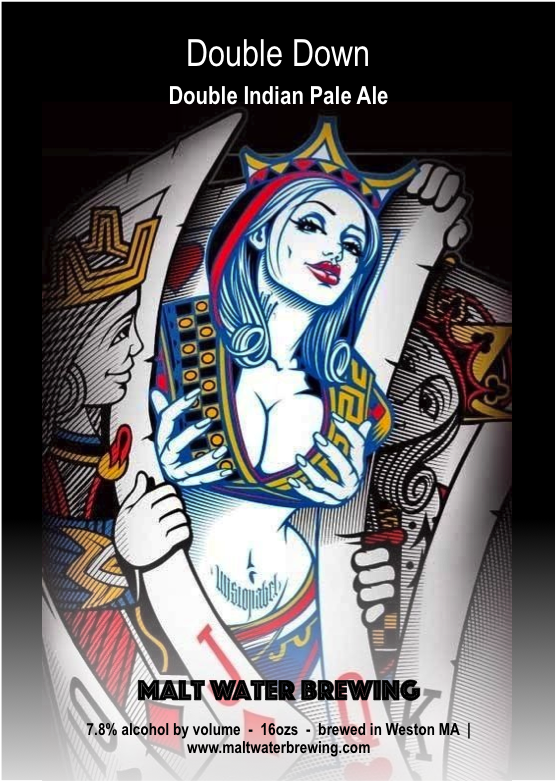 /
0 Comments
/
by brewmaster
http://maltwaterbrewing.com/wp-content/uploads/2018/07/IMG_2617.jpg
3024
4032
brewmaster
http://maltwaterbrewing.com/wp-content/uploads/2018/05/Malt-Water-300x50.png
brewmaster
2018-07-21 11:01:26
2018-08-19 12:22:28
Double Down | Double IPA 7.8%
Brewing, On Tap

I started with my first brew ever which is a Blonde Ale from The Electric Brewery that I call Sweet Lilly and added spruce tips to it.  Sweet Lilly is really a simple beer, light in color and flavour.  I plan to do a number of brews with this as the base and add things such as berries.  When I brewed Sweet Lilly I was able to get the German 2-row but this time Strange Brew was out so I ended up going with American 2-row.
Grain Bill
22lbs Pilsner 2-row (German) – had to use American as there was no German
90 min mash @ 149 & 168 mash out and sparge
3ozs Hallertau @ 45mins (German)
4pkgs Safale US-05
7.5ozs Blue Spruce Tips @ 45mins
Inspiration
I was sitting in the family room thinking about things I could brew with and just out side the door we have a few spruce trees and I thought why not try the new growth…  A quick Google and I discovered this is not a new idea.  People have been brewing with spruce tips for hundreds of years and you can even buy spruce extract – https://en.wikipedia.org/wiki/Spruce_beer.
Brew Notes
Water adjustment – 3g gypsum, 3g calcium chloride and 4g magnesium sulfate.  To bring the PH in range I added 2ml of lactic acid to the mash and 3ml to the sparge water.
/
2 Comments
/
by brewmaster
http://maltwaterbrewing.com/wp-content/uploads/2018/05/IMG_2883.jpg
3024
4032
brewmaster
http://maltwaterbrewing.com/wp-content/uploads/2018/05/Malt-Water-300x50.png
brewmaster
2018-05-28 07:02:21
2018-07-22 12:26:23
Spruce Juice | Blonde Ale 4.2%
Brewing, On Tap

Second time brewing this as I planned to enter it into the national home brew competition.  I did not have much time to get everything done, especially the aging, and I had to brew a double batch to fill a 25 gallon barrel.  I purchased a barrel from Nick and because I was short on time we simple added a few bottles of his syrup to the barrel and rolled it around for a few days (there was just not enough time to go through an aging of the syrup).
Grain Bill
28lbs 4.8ozs Pale 2-Row malt
2lbs 11.1ozs Flaked Wheat
2lbs 11.1ozs Flaked Oats
2lbs 8.9ozs Roasted Barley malt
1lb 4.5ozs Black Patent malt
1lb 4.5ozs Caramel/Crystal 60L malt
1lb 4.5ozs Chocolate malt
1lb 4.1ozs Corn Sugar
3.3ozs Magnum @60mins
10pkgs Safale English Ale yeast #S-04
Inspiration
My inspiration comes from one of the best beers I've ever had – Angels with a Filthy Soul from Bissell Brothers.  I've only ever had 3 cans of this beer as it is crazy hard to get.  Bissell Brothers age this beer in oak barrels they get from Nick at Cask Force who I know from Post Road Liquors.  And before aging the beer the barrel is used to age the Cask Force maple syrup.
Brew Notes
Up early that day so I could get a double batch brewed.  Everything went great on brew day and I was done before 5:00pm.
/
1 Comment
/
by brewmaster
http://maltwaterbrewing.com/wp-content/uploads/2018/02/Bissell-Brothers-maple-angels.jpg
675
1200
brewmaster
http://maltwaterbrewing.com/wp-content/uploads/2018/05/Malt-Water-300x50.png
brewmaster
2018-02-20 10:10:09
2018-05-21 10:59:31
Angels with a Dark Heart | Oak Aged Imperial Stout 13%