Dianne and Chase wanted me to do something for Thanks Giving that would have a broader appeal than the Pecan Stout I did yesterday. After brewing and writing this post we decided to change the name from Pale Rider to The Landing.
Grain Bill
18lbs Pale Malt 2 Row
1lbs Carafoam
1lb Carmel / Crystal Malt 60L
Mashed at 150F for 90mins and then 168 for 20mins
2ozs Galaxy 5mins
2ozs Columbus 5mins
1ozs Falconers Flight 5mins
Boil for 90mins
2ozs Galaxy whirlpool for 50mins at 170F
2ozs Columbus whirlpool for 50mins at 170F
1ozs Falconers whirlpool for 50mins at 170F
2ozs Galaxy dry hopped after 1 day of full fermentation
2ozs Columbus dry hopped after 1 day of full fermentation
1ozs Falconers Flight dry hopped after 1 day of full fermentation
200B cells of Imperial A15 Independence
100B cells of Wyeast 1272 (is suppose to be the same as A15 and Strange Brew only had one pouch of A15)
When I kegged I added 2oz of Columbus to one of the kegs (see brew notes).
Inspiration
I had been leaning toward a strawberry blonde ale but never found a recipe that hit me and I was not convinced strawberry was the right thing for Thanksgiving. I then started thinking about doing another Saison but they don't really have broad appeal. My first ever brew was a blonde ale from The Electric Brewery so I started looking at what else he had and came across his Electric Hop Stand Pale Ale. After reading through the experimentation he did with post boil hop additions and decided I would do a hopped pale ale. Initially I was going to go 100% with his recipe but decided to modify the hop addition and do a takeoff from my Galaxy Rider Dry Hopped IPA.
Brew Notes
Water adjustment of 20g gypsum and 10g magnesium sulfate – to bring the water to 91ppm calcium, 18ppm magnesium, 38ppm sodium, 50ppm chloride, and 268ppm sulfate. The one concern I have is the chloride / sulfate ratio is .39 which could add bitterness.
No real issues and actually I heated the water while I went to the brew store to buy grain. I need to install the remote VNC on the brew controller so I can monitor while remote.
Had to add about 1/4 gallon of water at end of boil to get back to the 10.5 gallon post boil volume. This helped get the temp down for whirlpool, but not all the way to 170F. It took 20mins or so to drop to the 170 target. I ran the whirlpool the from end of boil until I hit 170F.
All in all this is a recipe I will certainly do again as I really like the idea of a hopped pale ale. When I kegged I decided I would dry hop one of the kegs to see how this would change the flavour I think is coming from the Falconers, so I added 2ozs of Columbus to one of the kegs (made a bag from cheese cloth and hung it with fishing line). That said next time I would change some things next time:
I think I would change the hop profile and certainly not use the Falconers (which I've been told is being discontinued). I've read that Falconers can give an off / onion taste and I think I am tasting something like this.
I would get the whirlpool down before adding the hops as the beer is way more bitter than I would have expected and I think this is due to the temperature of the whirlpool.
Label
I'm thinking something with Don Quixote but Chase and Dianne are working on a better name and label idea.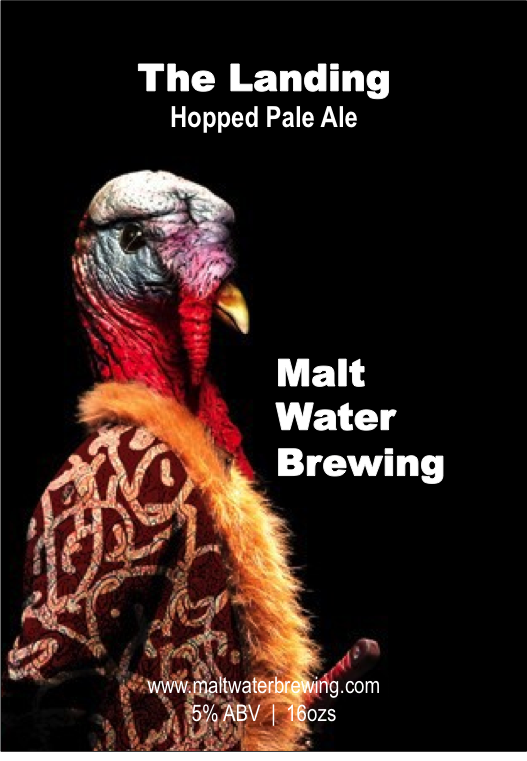 http://maltwaterbrewing.com/wp-content/uploads/2018/10/The-Landing-Feature.png
521
695
brewmaster
http://maltwaterbrewing.com/wp-content/uploads/2018/05/Malt-Water-300x50.png
brewmaster
2018-10-28 17:47:26
2019-06-03 18:55:41
The Landing | Hopped Pale Ale 5%