Wanted to brew a full 10 gallon batch but had to cut back a bit due to Strange Brew being low on hops – I should get about 8-9 gallons out of fermenter.
Grain Bill
18lbs 2.8ozs Pilsner 2 Row
1lb 1.4ozs Vienna Malt
1lb 1.4ozs Wheat Malt
8.8ozs Caramunich
7.3ozs Munich Malt
4.5oz 2.8% Styrian Goldings hops @ 45mins
1oz 4.8% East Kent Goldings hops @ 15mins
3 pints (1.25lbs) Raspberries mashed and added to fermenter with wort
4 pints added when I hit FG (the taste was to light so I decided to add more)
Mash temp 150F
Sparge temp 170F
Inspiration
The Beet Saison I did got me thinking about other variations and something more summerish.
Brewing Notes
My original plan was to add some black pepper or red pepper to give create a bit of bite / spice, but on brew day I decided to not go for the pepper (Chase talked me out of it). When I hit FG the raspberry taste was too light and I would say overall a bit too earthy, so I added another 4 pints for a few days before crashing.
This beer was a total hit. Many people commented that it was the best saison they have ever had.
Label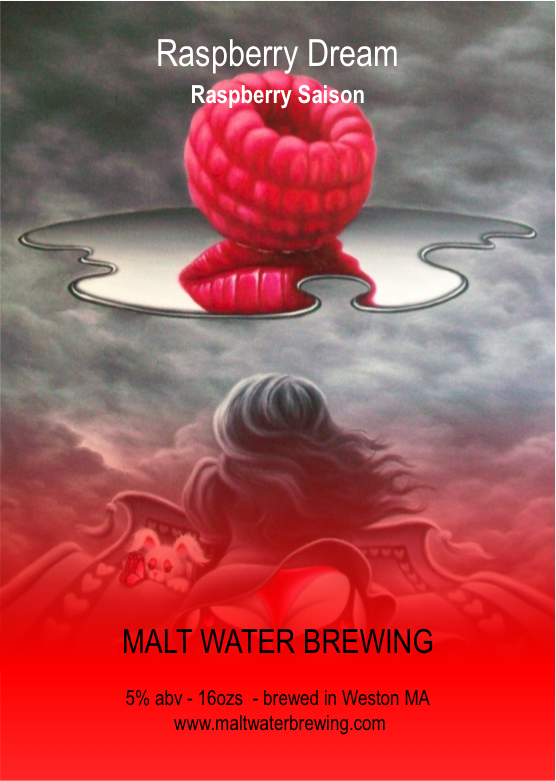 http://maltwaterbrewing.com/wp-content/uploads/2018/06/raspberries.jpg
630
1200
brewmaster
http://maltwaterbrewing.com/wp-content/uploads/2018/05/Malt-Water-300x50.png
brewmaster
2018-07-03 16:38:09
2019-10-20 09:35:47
Raspberry Dream | Raspberry Saison